. 
If you've worked with me, you know that I care just as much about helping you choose the right pieces to build your wardrobe as I do helping you understand what not to buy. Almost everyone struggles with buying too many things that either aren't working for them, or they don't need. My hope is that this post helps you be more discerning in the change room.
I'm going to walk you through the steps I take to cut those missteps down drastically. Will some things still slip through? Sometimes! Occasionally they still do for me too. But we're human, and it's unrealistic to expect perfection of ourselves. My ultimate goal is to help you build a functional (for your lifestyle) and versatile wardrobe that you love.
Here's my shorthand for the steps.
1) Do I love it?
2) Do I need it?
3) Is it a placeholder piece?
4) Can I afford it?
5) If the answers to all of the above are "yes," is it reasonable?
Now in more detail.
1. Do I love it?
For those of you who are still in the early or middle stages of building your wardrobes, you might not be able to answer 'yes' to all of those questions, but your intuition might still be telling you that you really like it, and that this is something worth buying. Getting from 'really like' to 'love' takes time, and practically speaking, one very good and rational reason you might not 'love' something is that you don't have the funds to buy the perfect piece from Day 1 (more on this further down). So, for you, it may not reach 'love,' but you do have to really like it. Because…
Even if it's pretty good, if something is nagging at you about it — you already don't feel great when you wear it; or can't help but cringe at the polyester sheen of the fabric or the crooked sew job; or it's itchy or too short by an inch or you keep fidgeting with it or you're worried about bending over — you won't wear it enough. So, don't buy it!
2. Do I need it?
What I mean by "need" is that it fills a gap and will add to the overall functionality and versatility of your wardrobe. Think of it like simple vs. compound interest: does adding a piece give me not one more, but ten more outfit options? When I do closet edits with my clients, a common trap I notice is that people tend to buy too much of the things that add neither versatility nor functionality to what they already own and love. Now they have more clothes, but the same number of holes to be filled!
This season I finally accepted I will almost never wear heels unless I'm going out at night. I gave away/sold/consigned almost all of my heels and invested in maybe five pairs of flats (here are four of them).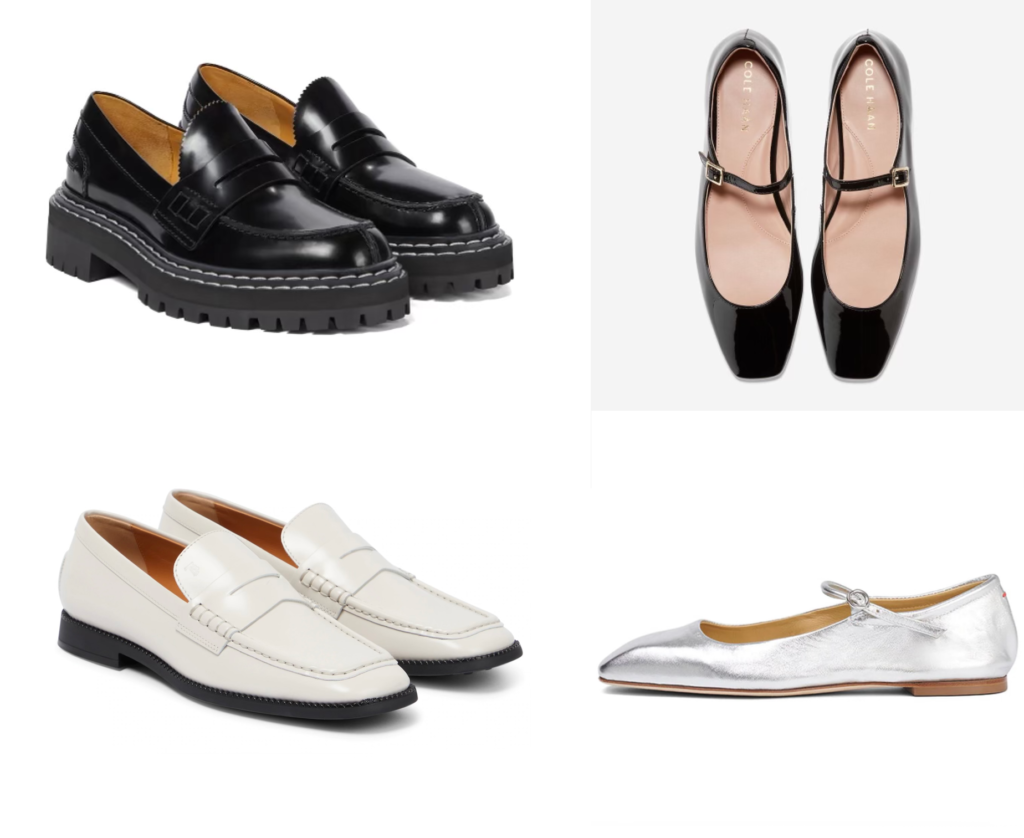 This one decision and investment unlocked so much in my closet. By leaning into these neutral but varied flat shoe shapes and not relying solely on boots (whether flat or heeled) or other heels, I used the rest of my pieces so much more and made so many more outfits of differing vibes and moods. And I was comfortable!
Adding the silver mary janes and white loafers, in particular, was a game changer. I loved how fresh and modern they felt against outfits across different levels of formality — from dressy to nylon cargo pants. These outfits would feel very different if I went with a standard black boot. Remember, I live in Toronto, and I need full coverage shoes eight months of the year. Also, heels look nice, but they aren't chill and they aren't practical for all the running around I do everyday. These shoes are the definition of a compound investment.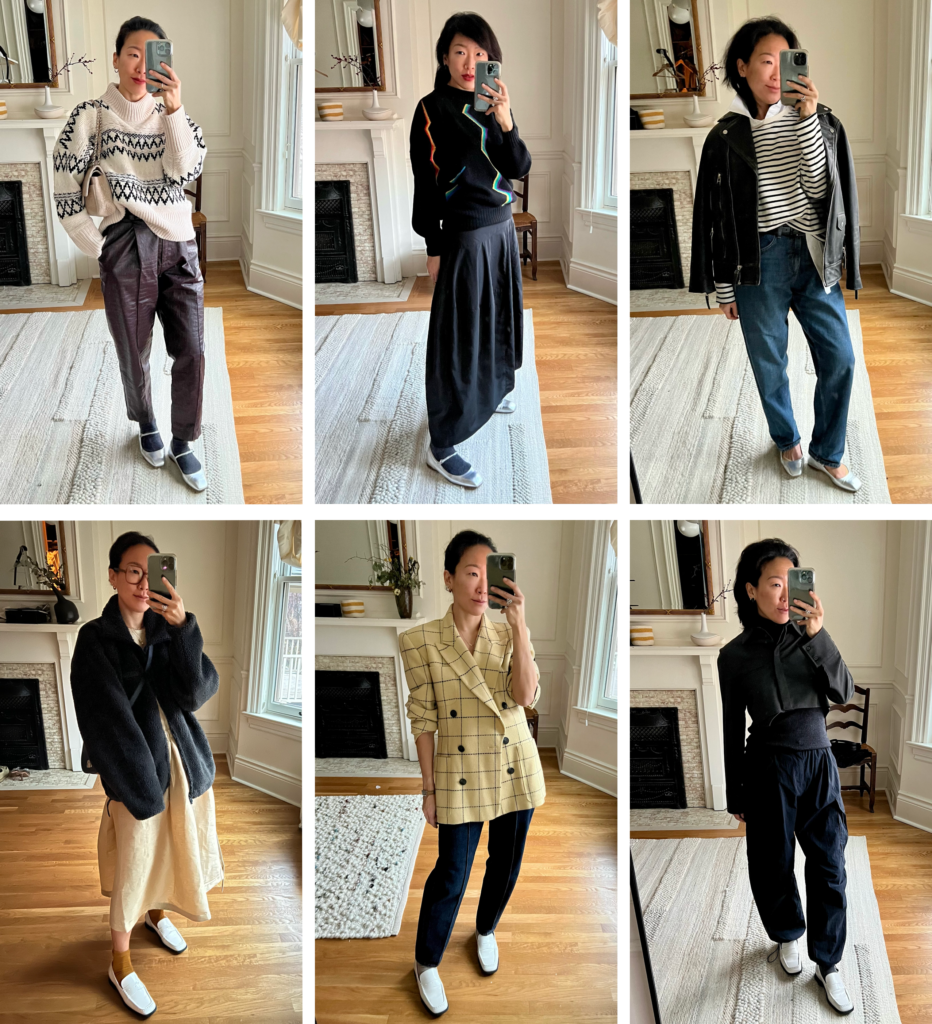 3. Is this a placeholder piece?
When I can't afford the exact piece I love (especially something from the runway), or if I am trying to test something out to see if it's as useful as I think it will be — if it's truly that compound interest piece — sometimes I will buy a placeholder, a "good enough" piece from Zara or another affordable brand. Down the line, whether at the end of the season or sometimes even a few years later, when I see it on sale or in the resale market, I'll invest in the original inspiration and let the placeholder go.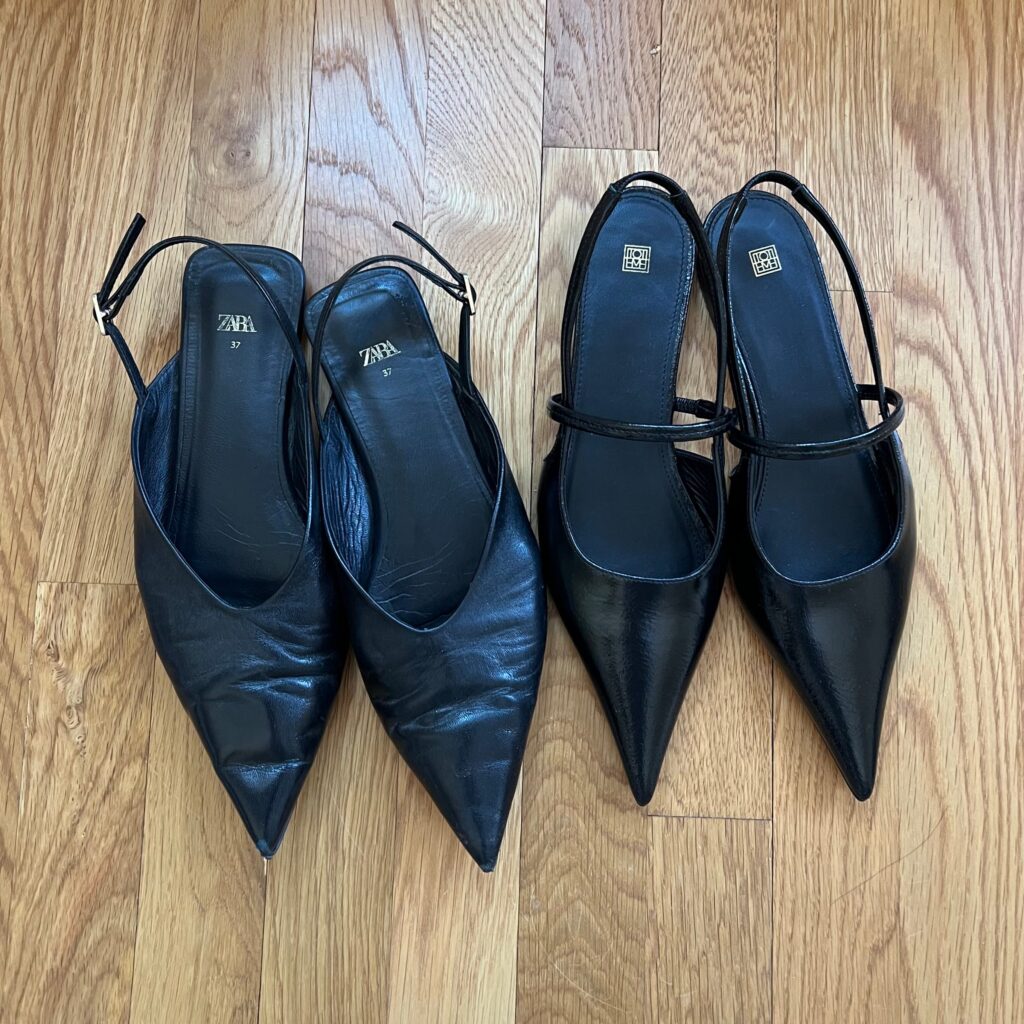 A few seasons ago, I wanted a pointed black slingback to add polish to my warm-weather outfits — a full-coverage shoe was feeling too heavy. These Zara leather slingbacks were a placeholder (I clearly wore them to death) which I replaced this fall with these Toteme sharp slingbacks I snagged on sale, knowing they will be in my wardrobe for a long time.
4. Can I afford it?
Self-explanatory. Is it within my budget?
5) Is it reasonable for me to buy it?
 If I have gotten this far, and even if all of the above answers are 'yes,' I still ask myself if it is reasonable to buy something. Just because I love it, need it in a compound (vs. simple) way, and can afford it, it may not be sensible for me to buy it.
For the perfect example, we turn to the Raey coat saga. My Instagram followers probably remember this. Ah, Raey coat saga…will you go down in the annals of history?
From the minute I set eyes on it, I loved this Raey coat — I'm wearing it in the left image below. I knew I would definitely wear it a ton and it would replace a grey Zara overcoat I had been using as a placeholder for a few seasons (and have since given away to my cousin who is enjoying it). The main issue about this Raey coat is that it's C$1,500. I mean, if you absolutely love a coat and will wear it, it's not completely crazy. But for many of us, including me, that's a lot of money to spend on a single piece.
I was in London this past November, and the coat was the one thing I had to try on, so I diligently made an appointment at the Matches townhouse. But before my appointment, as I was walking along Kensington high street, I glanced into the window of COS and saw this herringbone coat hanging there. I immediately bee-lined into the store.
Only mediums were available (no smalls anywhere in London, or in Toronto — I called lol) and it felt huge! But, I took it home anyway because I loved it, I needed it, it was a placeholder piece that I could afford (C$275), and I knew that after I had a chance to try on the Raey coat, I would know which was the reasonable purchase.
I try on the Raey and it's spectacular. I love the heavier weight and quality of the fabric, the lighter shade of grey, the details and subtleties in cut that are missing from the COS coat. I feel all the feels when I wear it. But is it reasonable or sensible for me to buy it when it's 4x the price, when I also still love the COS coat? For me, the answer was no. Not with the budget I am comfortable working within. And, I'm good with that, and have been happily wearing my COS coat this winter!
________________________________________________________________
If you're interested in more content like this, check out Irene's personal newsletter, In Moda Veritas.