Last week, Who What Wear asked me what must-haves I would take to a deserted island, and at the very top of that list was my trusty grey, 100% wool COS sweater.
Now that might sound super boring to you, but I think of it like this: the items I chose for the article were all key foundational pieces which form the backbone of my wardrobe.
They're all functional and versatile across the various areas of my life (work, mom life, nights out, etc…), and I can wear them year around (except in the hottest of summer days). It's from these hard-working (=/= boring) pieces that I'm able to create many of my not-so-boring outfits, which is why the cost per wear on my COS sweater is easily <$1 at this point, and continues to decline.
With transition season on our doorstep (at least it is here in Toronto), I thought I'd put together some outfits for you using my favourite grey sweater and the rest of my existing wardrobe. Because you better believe I'll keep wearing this baby, and enjoy creating new outfits with it every time!
What exactly is transition season? I think of it as the time of year when the temperature is not hot nor cold. It may be warm during the day, but cool enough in the mornings and evenings to want to cover up.
Additionally, as we (in Toronto) move into September, even if it is very warm for most of day, it doesn't necessarily feel right to be wearing an all-linen outfit at the end of September.
With that in mind, these "transition outfits" mix elements of summer dressing (bare skin, lightweight materials, open feet) with fall dressing (heavier weights and more coverage). While one foot lazes back soaking up the last rays of summer, the other foot moves towards into the crispness of fall.
Grey Sweater Options. My sweater is long sold out, but I came across this cashmere mock neck at COS this week, and she's a beauty. It's slightly longer in the back than in the front, and oh-so-cozy and slouchy. This 100% wool Arket sweater looks good too, although I haven't tried it on.
Just a note here about pilling. People always ask me if I know which sweaters don't pill, and the answer is, "I can't predict." In my experience, price and quality isn't necessarily correlated to pilling-ness. I bought a batch of Uniqlo cashmere sweaters eight years ago which never pilled, but the batch three years ago did. (Btw, they're showing as US$99 (old price) on the US site, but C$179 on the Canadian site?) All to say, a fabric shaver has done wonders to perk up my sweaters and is a great investment. I have this Philips one which is inexplicably C$20 right now (60% off) and it does the job.
Let's begin at the obvious starting point: shorts!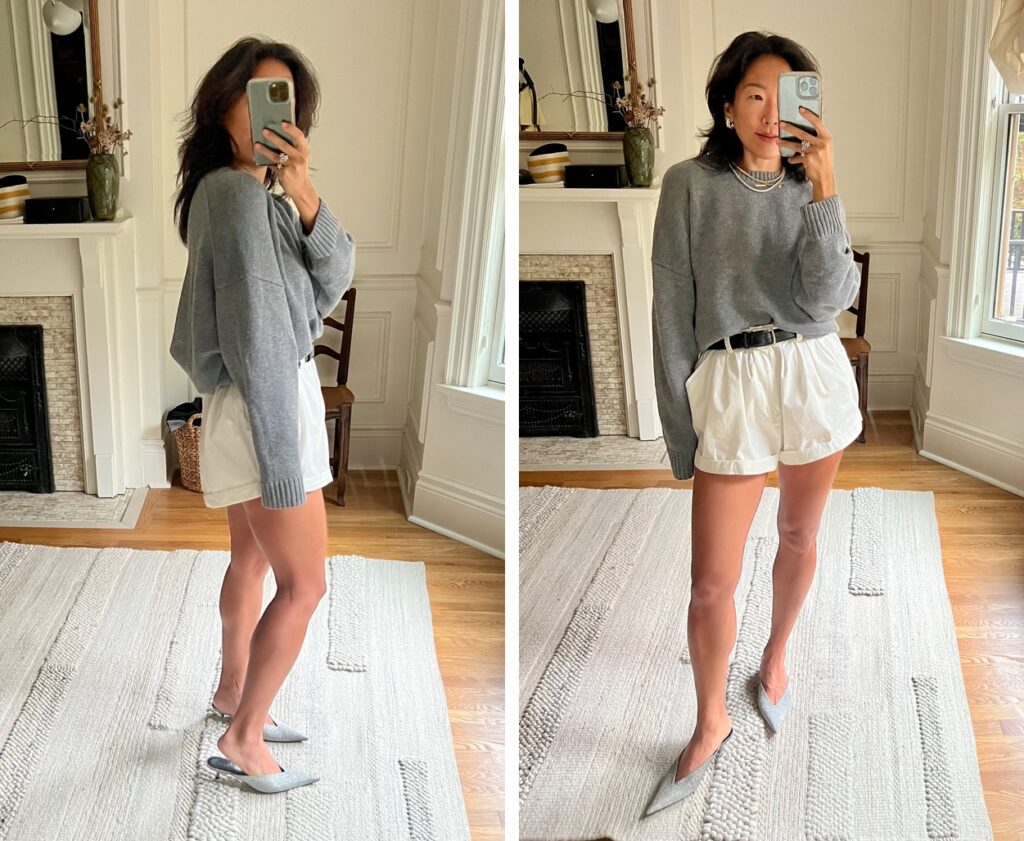 Doen paige short, Balenciaga glitter knife mules via Poshmark (used in size 36 and elsewhere online), husband's belt, Dorsey Kate white sapphire riviere necklace (18"), Dorsey James Bezel white sapphire gold riviere necklace (16"), Jenny Bird Florence earrings.  
I'm feeling this outfit for a dinner, maybe even on a (brrr…) patio. (It's 14C in Toronto right now!) I've paired the sweater with a summery pair of casual white cotton shorts and perked it up with a belt, jewellery and glittery mules with a sensible heel height. I like the polished effect of the tucked in sweater….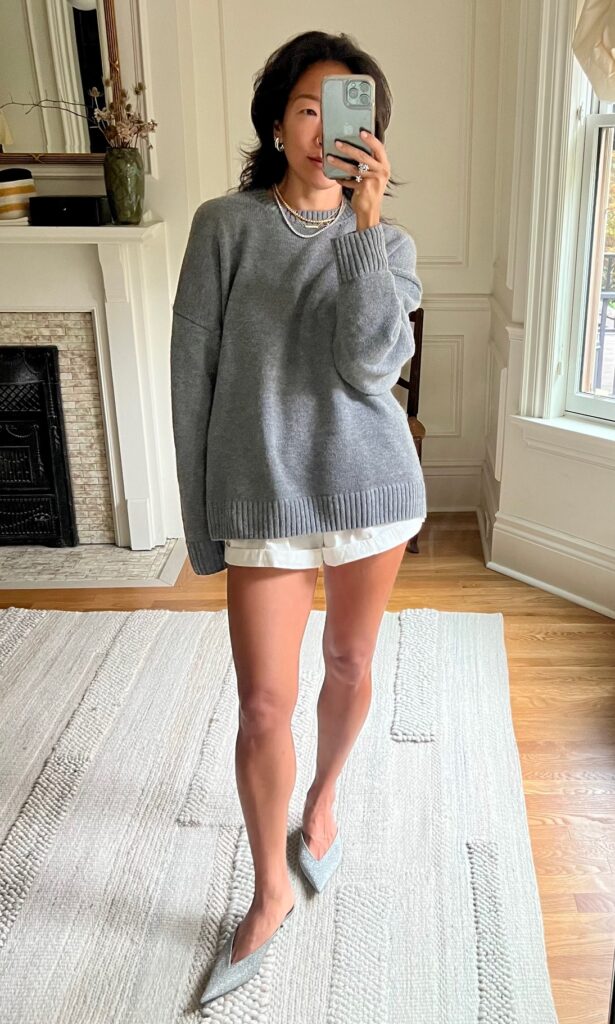 …and at the same time, I'm also digging the more relaxed feel of leaving the sweater untucked and the shorts ever-so-slightly peaking out.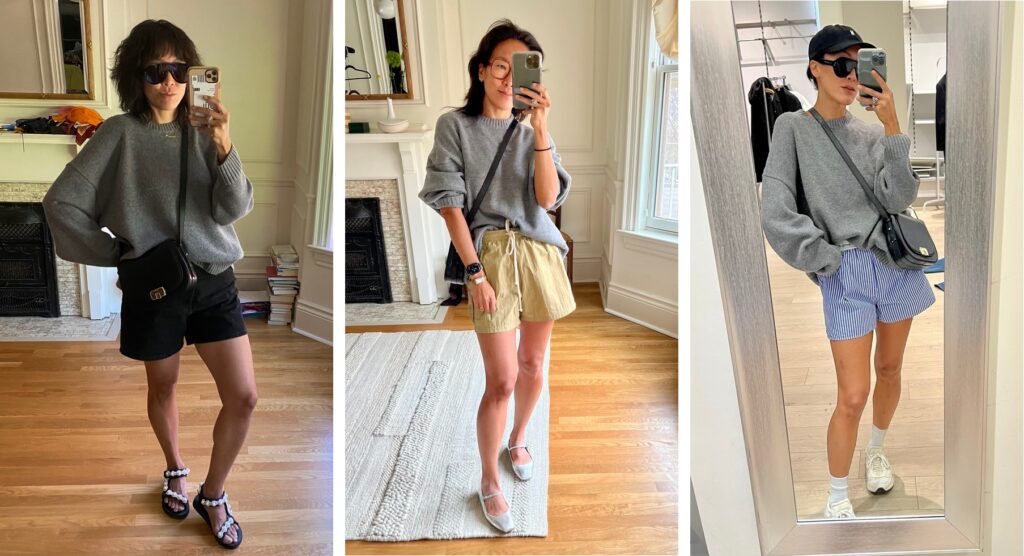 R: Zara denim shorts, Isabel Marant sunglasses, Arizona Love pearl trekky, APC Eva bag (similar Grace bag). C: Donni nylon cargo shorts via VSP Consignment (get 10% off regular price site wide with code IRENEKIM10, some exclusions apply, e.g. handbags, Hermes), Aeyde Uma mary janes, APC Eva bag (similar Grace bag). R: Sporty & Rich striped boxer short (similar), APC Eva bag (similar Grace bag), Want Les Essentials Evers sneakers, Isabel Marant sunglasses, husband's hat.
Here are few more casual shorts outfits I've worn with the sweater over the past year.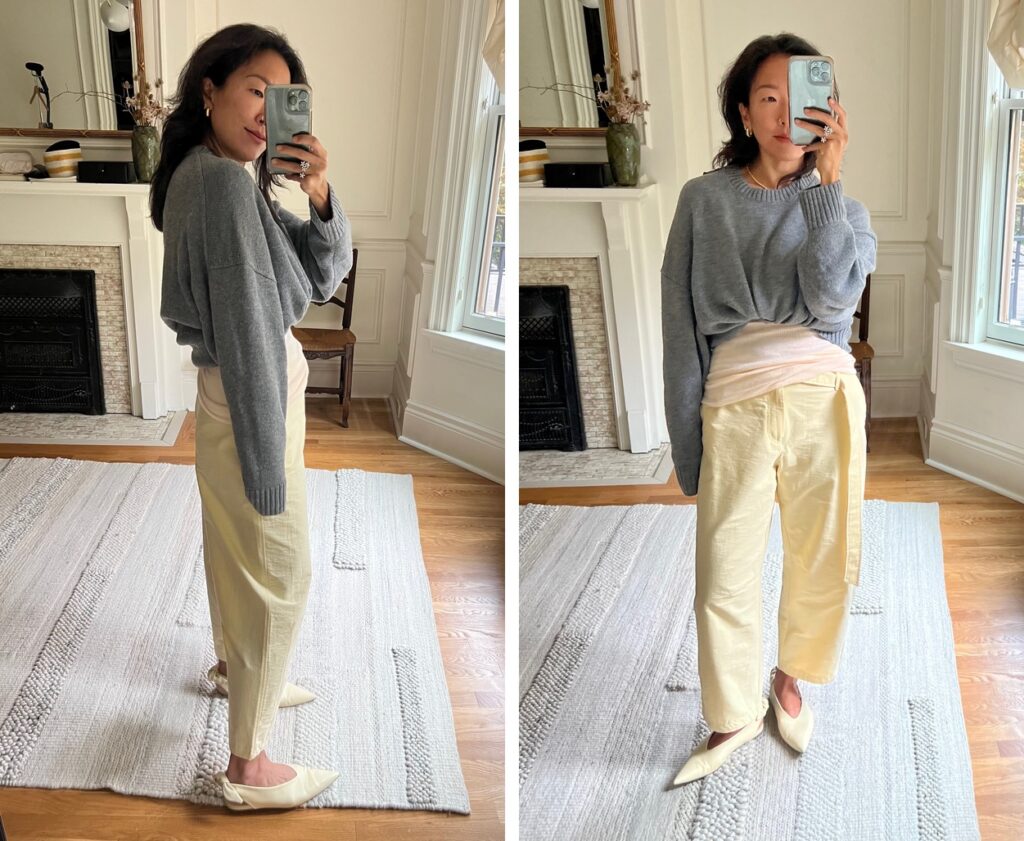 Vintage wool pyjama top via Otoe, Zara pants, Jil Sander knot slingbacks, Dorsey James Bezel white sapphire gold riviere necklace (16"), Jenny Bird puffy u-link earrings.
The transitional feel of this outfit comes from combining the wool sweater with a monochromatic palette of soft yellows, the lightweight fabric of the pant, and an open-heeled slingback flat. I've gathered the sweater snugly at its hem, tied it with an elastic like I would a ponytail, and tucked the excess fabric under to achieve this effect. On side view, you can see it creates a cocoon shape which I'm not mad at!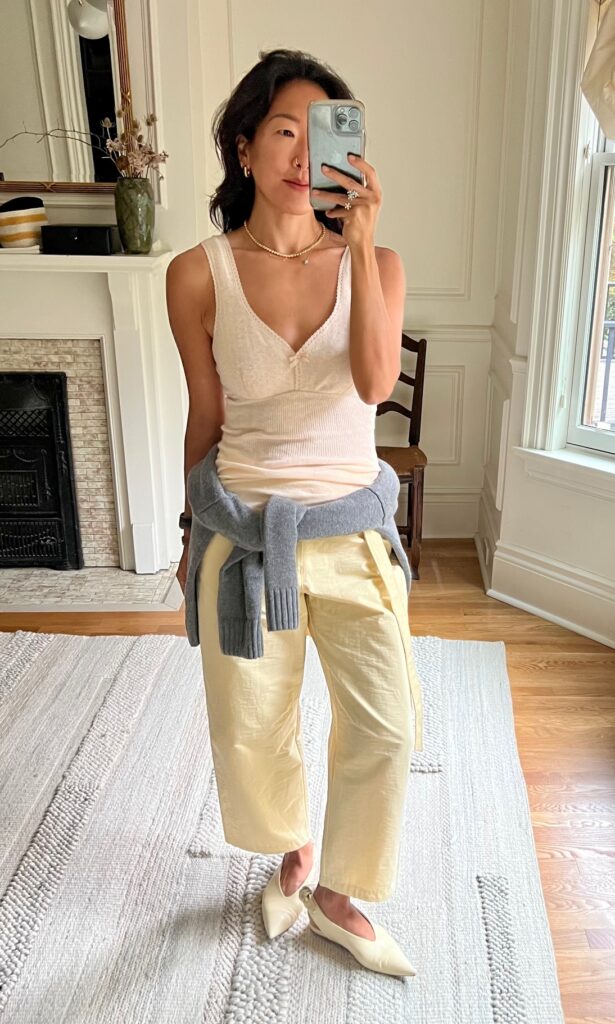 In case you start feeling too hot, just take the sweater off and tie it around your waist.
Onto skirts and dresses: the easiest way to style this sweater is to simply throw it on over any skirt or dress and see what happens!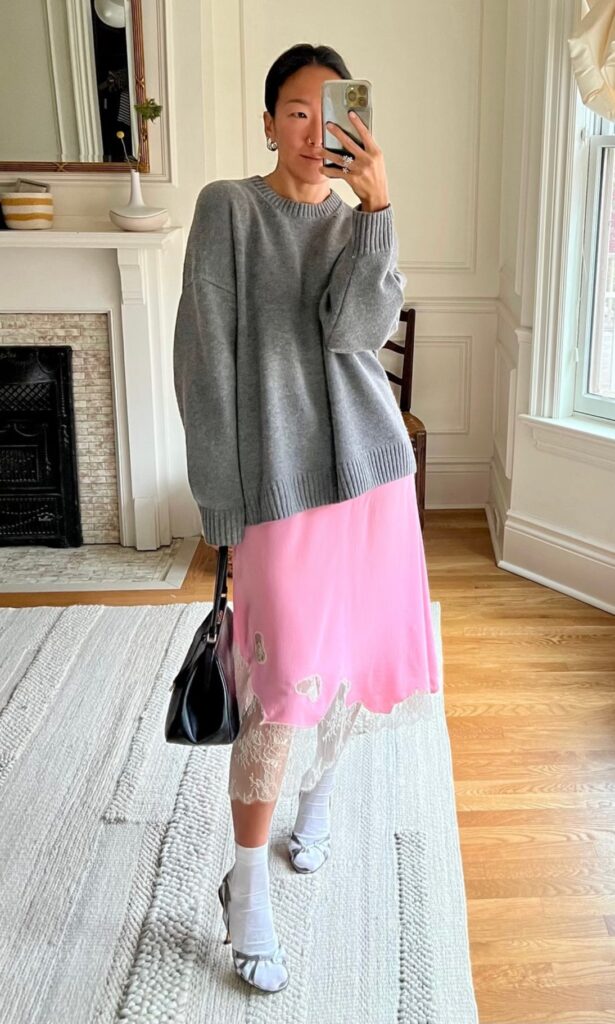 Thrifted silk Le Fou skirt (on Poshmark in white!); vintage Prada top handle bag via 1132 Consignment; Jimmy Choo slingbacks via VSP Consignment, Jenny Bird Florence earrings.
I've used this approach throughout the cold winter months and have made many outfits, but here's an outfit from spring that's suitable for transition season.
I've worn this combination of sweater and silk-lace skirt a number of different ways, e.g. with flats, with/without socks, blazer on top, different bags, and they all feel a little different (and good).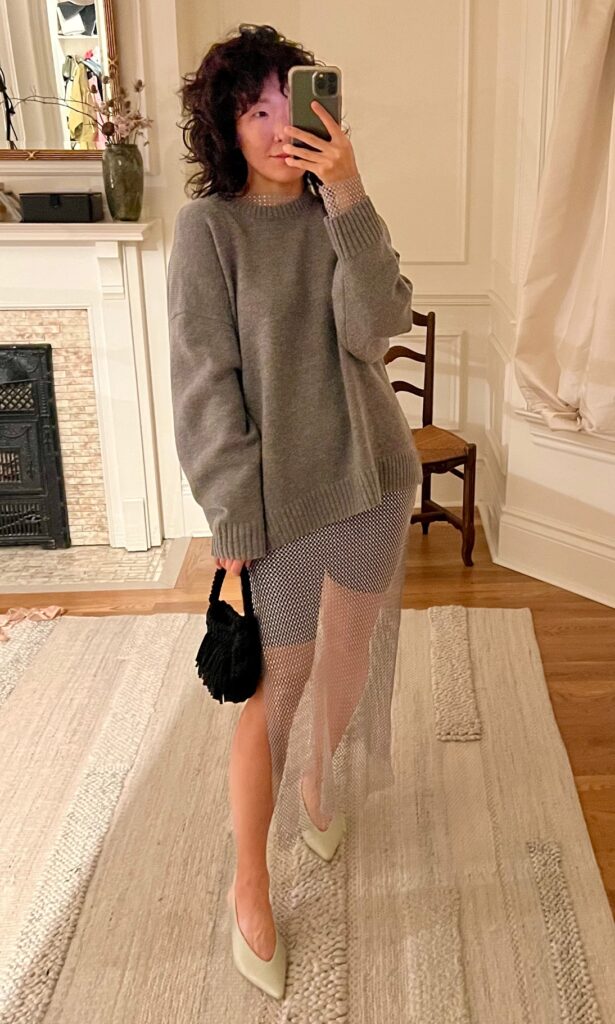 Zara mesh rhinestone dress, knit biker shorts, Vanessa Vinces mini fringe bag (get 10% off with code IRENEKIM10), Maison Margiela slingbacks.
Similarly, I've thrown the sweater over much dressier pieces, and it also works well to dial down the formality factor and add ease.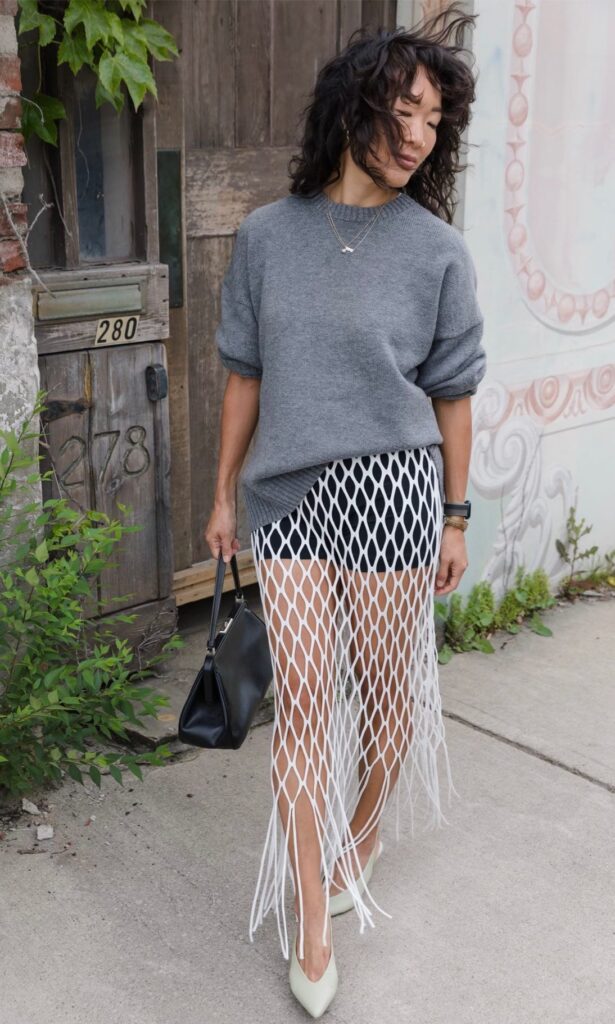 Dion Lee fishnet midi dress, vintage Prada top handle bag via 1132 Consignment, Maison Margiela slingbacks.
In the first two examples, I left the sweater untucked and let it fall freely. In the case of this Dion Lee fishnet dress, I was craving a different proportion, so I belted the dress underneath the sweater thereby creating a place I could tuck the sweater into. Casually tucked, and ta-da.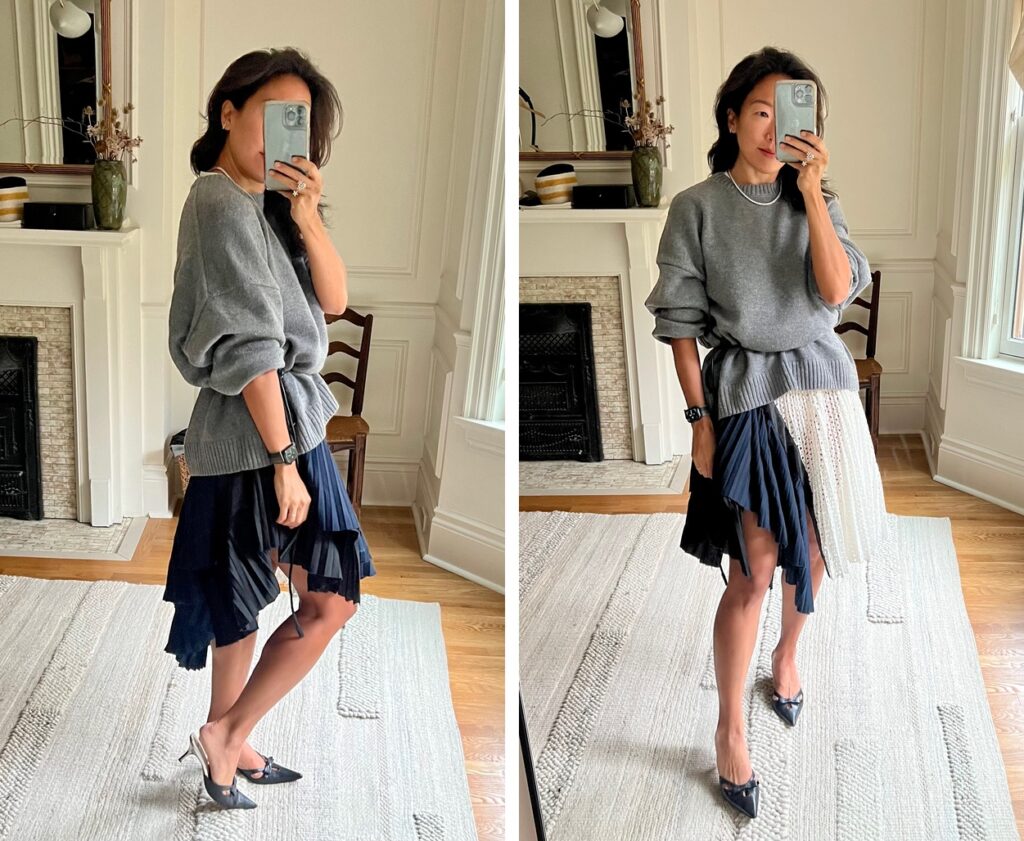 Sacai eyelet dress via Kindal, vintage Christian Lacroix mules via VSP Consignment, Dorsey Kate white sapphire riviere necklace (18"), COS leather rope belt.
In the case of this Sacai dress, I belted the sweater itself to give a peplum effect. By the way, the COS leather rope belt I'm using here is an excellent styling tool. It's sold out online right now, but comes in and out of stock, and I just saw it in-store this week (in Toronto).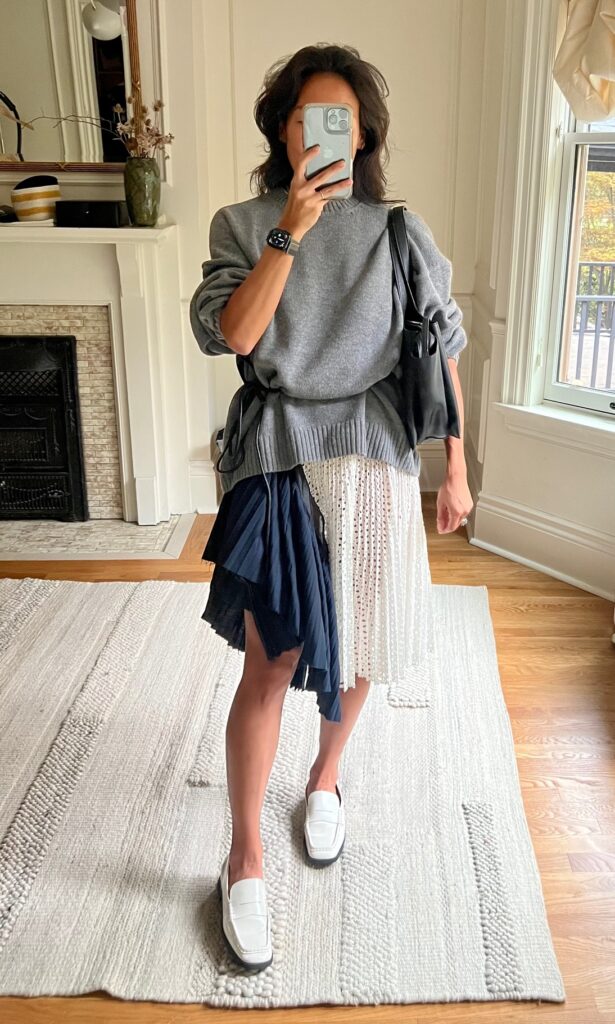 Tod's square toe loafer (grossly overpriced in CAD on Farfetch, but I did find a used pair in 36.5 here), Celine tri-fold bag via Rewind Couture.
If a kitten-heel mule isn't practical for your commute, swap in a reliable flat.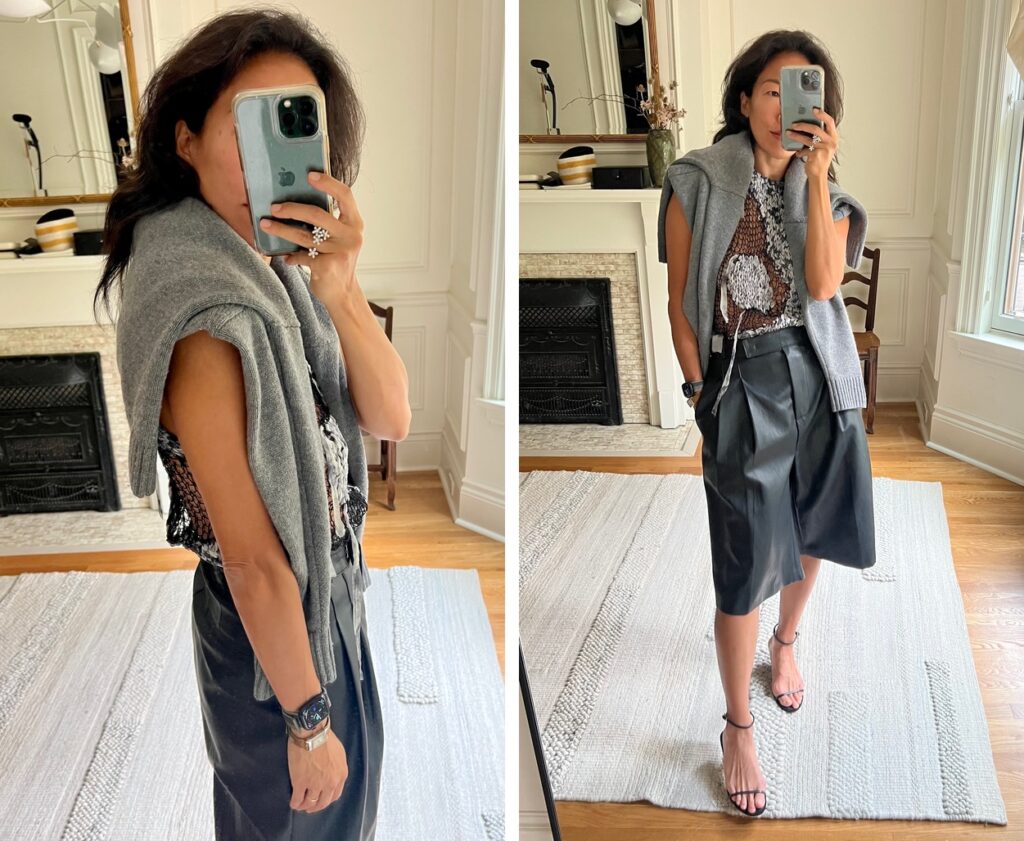 Zara crochet top, Frankie shop faux leather bermudas via The Fashion Edit, Neous Tanev sandals.
If you picked up some of the crochet pieces which were everywhere over the past year and still want to get a few more weeks of mileage out of them, throw the sweater over your shoulders. You'll still be able to see some the handiwork and details, but the sweater will provide some coverage. This particular top is very bare, and I think the added weight from the sweater and the faux leather bermudas bring this into fall quite nicely. The length of the Bermuda also helps.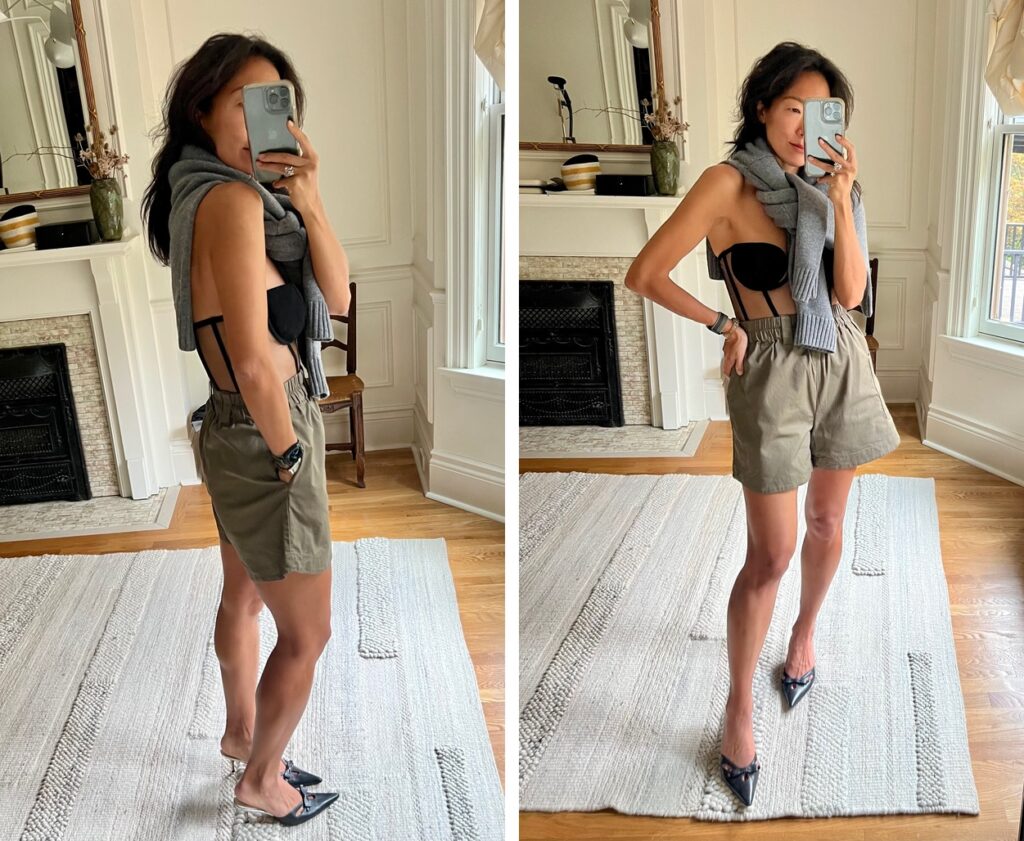 Nensi Dojaka bustier, Riand28 Freddie shorts (get 10% off with code IRENE10), vintage Christian Lacroix mules via VSP Consignment.
I've learned that draping a sweater over your shoulders comes in many forms. Sometimes you leave it untied (like above), other times you tie the sleeves, and other times you drape it over just one shoulder. It depends on the balance of the rest of the outfit, so just play with and see what feels right. In the case of this sheer and strapless bustier (another "trend" that was everywhere this past year) that I can't wear tonight (14C) but can wear next week (30C), I went with the sweater tied over one shoulder.
I hope you've gotten some ideas to play with from this post. Your go-to sweater may not be wool, heck, it may not even be grey, but the concepts can still apply. Enjoy experimenting!
________________________________________________________________
If you're interested in more content like this, check out Irene's personal newsletter, In Moda Veritas.