As we enter month two of the pandemic, comfort is the name of the game, and sneakers have been our go-to, sensible footwear for weekly food runs and physically-distanced, same household-only walks.
But besides the obvious plus of comfort, as self-proclaimed sneaker aficionados, we believe sneakers are an essential part of a versatile and functional wardrobe. The sneakers carrying you through self-isolation today will be the unexpected twist that will level up any outfit post-pandemic! Dresses and sneakers? A natural fit! Suiting and sneakers? We love! Suiting, sneakers with track pants? Our current uniform! The key is finding the right style for you.
1) The Clean Sneaker
If you're new to the idea of wearing sneakers with everything, then a clean sneaker is a great place to start! A white leather or canvas shoe with a minimal design will seamlessly work with all of your wardrobe staples, such as cropped jeans, summer dresses and, yes, even your dress pants. Clean white sneakers loosen up the formality of business wear, taking your suit or dress pants and shirt/crewneck combo down a notch into business casual territory. Try these: Chuck Taylor All Star Lift Low Sneakers; Rag & Bone Army Sneakers; Gucci New Ace Sneaker.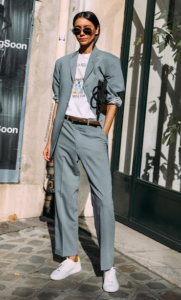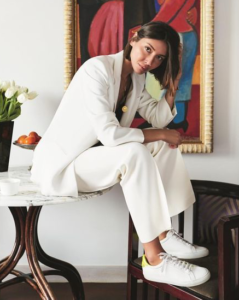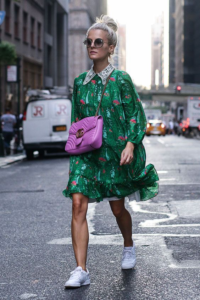 2) The Athletic Sneaker
A step up from the clean sneaker, the athletic sneaker is a running or workout sneaker, but with a substantial sole and luxurious fabric finishes such as suede and leather. When these "ugly dad shoe" first appeared on the fashion landscape, we wondered whether they would stick around. But they're here and stronger than ever, effortlessly modernizing the silhouettes all of your outfits, whether with jeans, trousers, dresses or skirts. Try these: Nike P-6000 Sneakers; Golden Goose Grey Running Sole Sneakers; Balenciaga Track.2 Sneakers.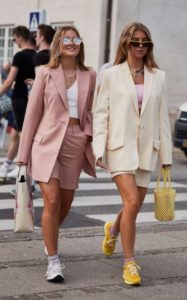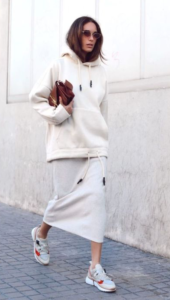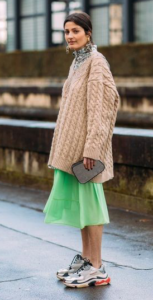 3) The Fashion Sneaker
The fashion sneaker is for the very intentional sneaker wearer, someone with sneaker experience. And, not surprisingly, they're rarely subtle – they're in your face with an even more exaggerated sole and bolder styling and colour details. If this look speaks to you, we say go for it! Treat them like any other statement accessory, whether a piece of jewellery or a handbag, and pop them against your wardrobe staples, or wear them side-by-side with equally fashion-forward pieces.  Try these: Adidas Originals Green ZX 8000 Sneakers; Reebox White DMX Trail Shadow; Balenciaga Triple S Sneakers.